Fall Under the Spell of This M.C. Escher-Inspired Hotel in China
Inspired by the surreal labyrinths of Dutch artist M.C. Escher, whose landscapes feature upside-down staircases and other cases of impossible architecture, two new guest rooms have opened in The Other Place, a 10-room boutique hotel in Pingle County, Guilin—a southeastern part of China famous for its majestic, otherworldly karst mountains formed from eroded stone.
The hotel—the brainchild of Harvard alumni Yi Feifei—aims to usher guests into an alternate reality. Different creative professionals were responsible for the interior design of the 10 rooms, but two of the most mesmerizing are the newly renovated Dream and Maze, each 650 square feet, which were created by Shenzhen–based, interdisciplinary firm Studio 10.
Feifei approached Studio 10's principal Shi Zhou with a request for something fresh, creative, unique, and otherworldly—a retreat that would be a true escape from city life. She also asked that they make the best use of the shape of these two rooms, which have pitched roofs and 23-f00t-high ceilings.
Maze juxtaposes pink and green. The walls, floors, and ceilings are painted concrete. The dreamscapes of Escher have fascinated Shi ever since she was in architectural school. "Escher's works are absolutely inspiring for architects," says Shi. "After visiting the site—then just a bare, concrete room—for the first time, while standing in the unusually high, chapel-like ceiling, I felt that this space offered the opportunity to do something spatially unique. An Escher-inspired design with surreal, anti-gravitational-like elements started to emerge."
Looking to Escher's works such as Convex and Concave, Relativity, and Belvedere for ideas, Shi wove in non-angular elements such as arches and domes into both Dream and Maze.
"We feel that arched doors and furniture seem more whimsical and playful, adding a bit fun, and softness to the rooms," she says.
While both Dream and Maze have the same design concept, the different color scheme of the rooms—pastel pink for Dream, and forest green for Maze—makes each room a distinct entity.
"Both of these color schemes express the concept of utopia or 'The Other Place,' and differentiate the rooms from the common spaces that we live in everyday," says Shi.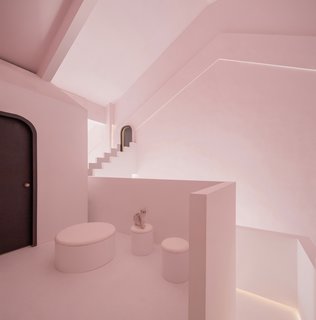 Learn more about The Other Place and book Maze or Dream for $246 a night through Airbnb.
Project Credits: 
Architecture: CBTGC 
Interior design: Studio 10 / @studio10design
Builder: Jinzhao Construction 
Structural and civil engineering: Fanben