The Ultimate Guide to Visiting the San Blas Islands, Panama (Guna Yala)
Things are changing rapidly – please double check what's open before your trip and follow all local guidelines to keep yourself and others safe! Also, ads are how we pay our bills and keep our blog free for you to enjoy. We also use affiliate links; if you make a purchase through them, we may receive a small commission at no cost to you.
Aquamarine Caribbean water. White sugar sand beaches. Swaying palm trees. The San Blas Islands are the visual embodiment of paradise. The islands literally look like a screensaver: for years, many Microsoft users have been staring longingly a picture of San Blas as their desktop background!
The San Blas Islands are one of the most beautiful places we've ever visited, but also one of the most confusing. During our 3-day trip, were never really sure what we were doing or where we were, and between our stunted Spanish and our host's Dulegaya, communication was difficult.
But our biggest challenge was just letting go of our need for control: honestly, all we had to do was show up, go where we were directed to, and enjoy ourselves! So why was that so hard for us? Answer: because we are anxiety-prone control freaks, of course.
We spent the first day of our trip confused, stressed out, and unable to relax. But by day 3, we weren't ready to leave! We'd found our tranquilo and adapted to a life of being fully present and totally laid back. For a day or two, anyway.
If you're an anxiety case /control freaks like we are, the lack of knowing things can be stressful, and it's not super easy to find information about visiting the San Blas islands online (we've tried). So we created this San Blas travel guide to help ease your mind and tell you everything you need to know about planning a trip to the San Blas Islands, Panama! (For starters, that's not their real name, and they're not really in Panama. Don't worry, we'll explain.)
COVID INFORMATION FOR SAN BLAS, PANAMA
The San Blas Islands are re-opening to foreign tourists as of August 14, 2022. Here's what you need to know:
Anyone entering Guna Yala must present a negative RAPID ANTIGENIC Covid-19 test done within 48 hours, even if you are fully vaccinated. You need the same test to enter Panama 

(details here)

 so you may want to book your trip to San Blas the day after you arrive. Otherwise, you'll want to get this done in a large city before you leave (

Panama City or Cartagena

).

You must reserve day trips or accommodations in advance (some sources say 24 hours, some say a week). Without a reservation it is not possible to enter Guna Yala.

Your temperature will be measured in at least 3 control points: before entering the car to the port, on the boat, and on the Island.

You must wear a mask in the car and on the boat.

The number of islands and places visitors are currently able to visit is limited. You may only be able to visit a single island. Keep that in mind when booking your tours, and if you're unclear, ask for clarification when you book!
Note that this is all subject to change. We'll do our best to keep this post updated!
ALL ABOUT SAN BLAS/GUNA YALA
To plan a trip to San Blas, all you'll do is book a tour and pick the length of your stay – your hosts will take care of the rest. Transportation, activities, and meals will all be handled for you, without needing your input. Trust us: it will all be just fine! Your time on the islands will be rustic, but relaxing. You'll spend your time reading, listening to the waves, walking on the shore, swimming, snorkeling, eating incredibly fresh seafood, and relaxing.
WHERE ARE THE SAN BLAS ISLANDS?
The San Blas Islands are located off the eastern coast of Panama in the warm Caribbean sea. So they're in Panama, right? Well, to quote Bilbo Baggins, which I do often, no … and yes. While San Blas is technically part of Panama, it's actually an autonomous Indigenous province, and it is run by the Guna people. It's one of several comarcas Indígenas in Panama.
Sound confusing? We've actually got similar set-ups all over the USA. When you visit Monument Valley in the Southwest USA, for instance, you are actually visiting a Navajo Nation National Park, which just so happens to overlap on land that we also consider to be Arizona and Utah. Since you are technically entering an independent province, be aware that you will need to pay a $22 fee as a non-resident.
IS IT CALLED SAN BLAS OR GUNA YALA? (OR KUNA YALA??)
San Blas is the name given to this archipelago of islands by the Panamanian government. The name comes from the area's location in the Golfo De San Blas. Guna Yala, however, has been the official name since 2011. Guna Yala (which is also called Kuna Yala) is what the local Guna (or Kuna) people call their home. It means "land of Kuna," or "Kuna's land." Both names refer to the same place, so they are used somewhat interchangeably.
WHO ARE THE GUNA PEOPLE?
The Guna people are the residents of the San Blas Islands/Guna Yala. They are an Indigenous tribe with a long history that predates the existence of Panama and Central America.
The Guna people were living in and near the Darien Province in modern-day Panama and northern Columbia when the Spanish arrived in the 1500s. Conflict with the Spanish and the difficulties of living in the jungle forced the Guna to move northwest. They settled into the mainland coast and island archipelago (now known as San Blas), where they thrived. But conflicts with other groups, including the Panamanian government, continued even after the Guna settled into their new home. In 1925, the Guna led a revolution against Panama in order to gain their independence. They were successful, but later agreed to rejoin Panama as an autonomous province.
Today, Guna law and tradition are the rule in San Blas. The Guna society is somewhat matriarchal. Typically, women make decisions, own property, and distribute food. Their belief system is based on three principal concepts: God, nature, and the cosmos. The Guna's oral traditions are full of songs, hymns and prayers that tell stories of the beauty and majesty of the wind, the land and the sea and of the myths and legends that created and shaped the earth. To the Guna, people and nature are considered parts of the same entity. For more details about the Guna's beliefs and culture, head over here.
You'll see Guna people throughout your visit to the islands, but you probably won't be co-habitating with them: most islands that tourists visit are dedicated entirely to tourism, and Guna communities are concentrated on other islands, not typically visited by tourists.
ARE THE SAN BLAS ISLANDS INHABITED?
While you won't find any touristy cities or resorts on the San Blas islands, there are Guna communities on 49 of the 370 islands in San Blas. Some islands are closed to tourists – in fact, tourists can't travel freely throughout the islands. The Guna lead tours and guide visitors at their own discretion, which has helped maintain the pristine natural environment and traditional communities. About 50,000 Guna live in San Blas today, though the entire Guna population numbers around 300,000. The leaders of the Guna live on one island —  Acuadup — where they make a lot of decisions for their communities. 
IS VISITING THE SAN BLAS ISLANDS ETHICAL?
This was one of our primary concerns as responsible travelers. We wanted to make sure that our presence on the islands would not be disruptive or exploitive, and that the money we spent on our visit would go directly to the Indigenous community. Thankfully, because the San Blas/Guna Yala islands are owned and maintained by the Guna people, all of the tourism to the islands directly benefits the Guna community and supports their economy.
In terms of economic impact, the Guna economy runs primarily on coconuts, tourism, and artwork. They export coconuts to other countries (which is why you are not free to pick a coconut in San Blas – that is stealing!) and host tourists on certain dedicated islands, providing them with food, lodging, and travel around the archipelago. You may not explore the islands on your own. The Guna also make and sell molas, patterned cotton clothing designed with beautiful embroidered panels. Guna women wear these molas and sell decorative mola handicrafts to tourists.
You can also find molas in Panama and Columbia, but due to their cultural importance, the Guna don't allow them to be sold outside of the region. Purchasing a beautiful, handmade mola as a souvenir is a great way to support the Indigenous community!
HOW TO PLAN A TRIP TO THE SAN BLAS ISLANDS
Let's talk logistics: how are we doin' this?? Honestly, it's very confusing. There are several different ways to visit the islands: you can sail from Colombia, take a day trip from Panama City, stay overnight, sail around the islands … it seems like a lot to figure out! But don't worry, I'll break down each of the options so you can make your decision.
No matter what you end up choosing, you'll need to book either a tour (day trip, sailing, or overnight) or accommodation on the island (which is essentially the same as booking an overnight tour). Although each option differs, your experience will be very similar no matter who you book with. The reason for that is that tourism on the San Blas Islands is strictly controlled and regulated by the Guna. The Guna only allows certain islands to be visited, only serve a few kinds of food, and do not have many luxuries or amenities (think in-room electricity or hot water). So there simply are not many options: you can pick a fancy boat or a small boat, a fancy bungalow or a small cabin, or a day trip. That's … pretty much it! Everything else is pre-determined.
All of your decision-making happens now, while you're planning your trip: once you arrive, either your boat captain or your hosts will tell you where to go and what to do, while you sit back and enjoy. So first things first: you'll need to decide how you want to experience the islands. How long will you visit? Will you be staying on an island, or sleeping on a boat? Let's go through all of the options!
This is the restaurant/cafeteria where all of our meals were served each day on Isla Diablo. After breakfast and lunch, we had the option to take an included tour, which typically involved a boat ride to another island to swim or snorkel.
WHAT'S IT LIKE TO VISIT THE SAN BLAS ISLANDS?
There are three ways to experience San Blas/Guna Yala: on a day trip, staying on an island for several nights, or staying on a sailboat and sailing through the islands. Each type of visit is a little bit different:
Visit San Blas on a day trip: You'll depart from 5AM in Panama City, drive 2.5 hours to a water taxi, take a 30 minute boat ride, and hit the beach at around 9:30 AM. You'll swim, snorkel, and relax, eat an included lunch, visit another island, and then head back around 4pm. By 7pm you'll be back in Panama City.
Stay on the islands overnight: Whether you're flying or driving in, you'll take a boat to the island where you'll be staying and settle into your room. Your morning tour will depart shortly after you arrive, and you'll go to another island to swim or snorkel. You'll return for lunch, relax for a bit, then take an afternoon tour (if you like) to swim and snorkel. You'll return in time for dinner, then spend the rest of the evening relaxing and watching an absolutely stunning sunset. You'll fall asleep listening to the waves lap the beach just outside of your cabin, then wake up for another beautiful day in paradise! Rinse & repeat for the duration of. yourstay. (Note that you can either book a tour like this or an accomodation like this – either way, your experience will be the same.)
Sail through the islands: You'll depart from Panama City by car to the port, where you'll board your new home: a sailboat (or catamaran, if you're fancy)! You'll spend a few hours each day floating across the beautiful blue Carribbean sea, before docking at a new island to have an adventure: kayaking, snorkelling, beach volleyball, hiking, or even traditional dancing in a Guna community. You'll eat fresh seafood, learn about the Guna people, sit around a beach bonfire on the beach, and sleep in a hammock. Your guide will be with you throughout your stay and you'll get to know them and the other people on your boat. After 4 days, you'll return to Panama City the same way you came, except much more relaxed.
No matter which option you choose, you can expect to experience a different kind of life while you're visiting. For starters, on many of the tourist islands there's no cell service or wi-fi, and very little power. That's true whether you're taking a day trip or an overnight trip, so don't expect to be on your phone throughout your stay (we recommended bringing an external battery if that alarms you!) If you're sailing through the islands, your experience will mostly depend on the kind of boat you're in. Boat options range from rustic to luxurious, and the amenities (and price) will vary too. For a rundown of what it's like to sail through the islands, Silvia from Heart My Backpack has a great post!
We chose to spend 3 nights staying on Diablo Island in these cabins. Our accommodations were comfortable but rustic, although we had what we needed: a mosquito net, a comfortable bed, and a private patio steps away from the ocean (the waves lulled us to sleep every night)! Power was only available for a few hours per day – just enough for everyone to charge their electronics. Our hut did not have electricity, and the entire island shared one (well-maintained) bathroom. We did have some cell service through our local SIM card, but it was spotty.
It may feel jarring at first, but you'll quickly get used to spending your time listening to the waves, swinging in a hammock, reading, swimming, watching the sunset, and strolling on the beach. It's very much the sort of place where there's nothing to do but just be present, and that was a gift that we definitely needed! If I'm being honest, we struggled to adjust at first. We were hot and sweaty (there is no A/C or fans, just the ocean breeze). There were only 2 hammocks, and someone else was always using them. We were bored (I forgot to bring a book). This wasn't paradise: it was hell! But within a day or two, we adjusted. Our bodies got used to the heat, and we learned to cool off in the ocean. Our days adapted to the rhythm of life on the island: breakfast, activity, lunch, activity, relax for a while, dinner, watch the sunset. We stopped refreshing our cell phones and rebooting our laptops trying to get service so we could work (although I did take lots of photos and notes for this post!) And we spent our time just enjoying existing, listening to the waves, and being fully present.
By the end of our trip, we didn't want to leave! So, learn from our mistakes: bring a book (or several) some card games, and a journal, and enjoy being totally offline for a few days. Prepare yourself mentally for a rustic, totally remote trip that will be mostly out of your control, and just sit on the dang beach and relax.
WHERE TO STAY ON SAN BLAS
You won't find any large hotels or resorts in the San Blas Islands: every accommodation is owned and operated by the Guna people, and development is kept to a minimum. Personally, I find that this is part of the appeal and charm of the islands – how many places in the world have managed to stay so pristine? That said, if you choose to stay overnight on the islands like we did, you do have some choice about the kind of accommodation you stay in. While we stayed in rustic huts, you can certainly upgrade. And remember, you don't have to base yourself on a single island at all: you can also choose to sail around the islands on a sailboat or catamaran!
Here are a few options. Note that whatever you pick, you can be assured that it is owned and operated by the Guna people. The options below also include 2 daily tours and activities and all meals, too.
Budget Option – Isla Diablo Cabins: This is where we stayed. The cabins are rustic and simple but then, so are the San Blas islands. Your comfortable bed is covered with a mosquito net, and your cabin has a window and a small patio looking out over the ocean. The bathroom is shared but clean, and delicious, fresh meals are served a short walk away in the restaurant lounge (this is also where you'll find a power strip you can use for a few hours each day). Our main gripe was that there were only two hammocks, so consider bringing your own! Other than that, our stay was absoultely picruesque and wonderful, and we definitely recommend booking a few days here. Just bring a few books. Also, don't leave snacks out, because birds will come in through your window and eat them.
Fancier Option – Over-Water Bungalows: These gorgeous over-water bungalows are the San Blas version of luxury! You'll have your own bathroom (just worry, you don't need hot water, but also there isn't any) and, hello, you're literally on the water. Relax on your patio overlooking the ocean and just … ahhhh. There are two over-water bungalow picks: this one is a little cheaper, and this one is the full monty and priced accordingly (just remember: it's still relatively rustic). They both include all meals and daily activities and tours.
HOW DO YOU TO GET TO THE SAN BLAS ISLANDS?
There are two options to get to the San Blas Islands: driving or flying from Panama City, or taking a sailboat from Colombia.
The options that depart from Panama City are the fastest and cheapest way to get to the islands:
4×4 Jeep Taxi + Water Taxi: The trip from Panama City takes about 4 hours in total. Most tours leave early in the morning and include a 2.5-hour 4×4 ride to the port, where you'll then hop on a 30 to 45-minute boat to the islands. This is typically included in most day trips or overnight trips departing from Panama City, though if it isn't, you can book it here – just ask when you book your tour or accomodation whether transportation to San Blas from Panama City is included or not.
Flight on Air Panama: Flights depart every day around 5-6am from Marcos Gelabert Airport (PAC) in Panama City. The flight lasts 45 minutes and costs about $350 round trip. If you opt for this option, be sure to let your accomodation know when you'll be arriving so they can arrange. to pick you up.
Taking a boat from Colombia is another option and quite an adventure! You'll be sailing for 4-5 days, and the transportation to get there is also your trip – you're on a sailing tour of San Blas! There are two options: you can take a speedboat from Capurgana, Colombia or a sailboat from Cartagena, Colombia.
The sailboat from Cartagena is a 5 day trip, two days of which are spent on open water. Fair warning: seas can be a little rough! You'll be spending most of your time in transit since you have more distance to cover.
The speedboat from Capurgana is a 4 day trip. The biggest challenge is getting to Capurgana – you'll need to take a bus to Turbo and then take the two-hour ferry in the morning. But once you're on the boat, you'll spend less time traveling in between islands and more time enjoying yourself on the sand and in the water.
Two of our travel blogger friends have great write-ups of their trips with San Blas Adventures: Adventures N Sunsets and Two Wandering Soles. Something to note is that both of their trips were hosted – but this review on Inspired by Maps, who was not hosted, is quite a bit less complimentary, so if you're considering this option, read his post, too.
WHICH OPTION SHOULD YOU CHOOSE?
It really comes down to cost, the kind of trip you want to have, and your travel plans. The cost of 4 days staying overnight in island accommodation is very similar to the cost of a 4-day speedboat, but you have to factor in the fact that you'll need to purchase a one-way flight to Colombia and from Panama (or vice versa). That can raise the cost of the sailing adventure quite a bit! So if you want to spend several days sailing through an idyllic Caribbean island paradise without the open-jaw flight conundrum, just book a sailing trip that departs and returns to the port in Panama.
That said: if you're traveling long-term and need a way to get over the border from Colombia into Panama, this is your only option other than flying: the Darien Gap, which separates the two countries, isn't passable overland! The sailing trip is only a bit more expensive than flying, but it's WAY more fun.
San Blas Adventures charters full day, 1-night, 2-night, and 3-night sailboat and speedboat trips that include meals, snorkeling, and island visits. Sailboat charters range from around $300 – $600 per person, and speedboat charters (from Panama to Columbia or vice versa) start at $445.
WHEN'S THE BEST TIME TO VISIT SAN BLAS?
There are 2 distinct seasons in the San Blas Islands: the rainy season (from June to December) and the dry season (from January to May). But don't let the names fool you: the best time to visit San Blas is actually during the rainy season. The dry season typically experiences strong trade winds, which can affect snorkeling visibility and, you know, blow sand in your face and stuff. They're great for sailing, but not as nice for laying on a beach or seeing underwater critters!
The rainy season really just means that rain is more likely, and it typically only lasts for about an hour or so – which, frankly, we see as an excellent excuse to just sit and listen to the rain and relax for a while! There are occasional clouds, but much less wind. And no need to worry about hurricanes – this area doesn't get them. And, since most people tend to avoid places during the "rainy season," you'll probably see fewer tourists, too.
We visited the San Blas islands in July, and it did not rain during our trip. In fact, I didn't realize we were visiting during the rainy season until I started researching for this post! There was perfect weather and sunny days throughout our trip.
HOW LONG SHOULD I STAY IN SAN BLAS/GUNA YALA? 
San Blas is beautifully simple: swimming, sunbathing, and relaxing is just about all there is to do. It's an amazing experience, but probably not one you need to extend for too long. A day trip or single night is enough to get a taste of the beauty of San Blas, and by the time you get back to the mainland, you'll probably be ready for a shower anyway. 
That said, we spent 3 nights on the island. The first day or two, we were hot, sweaty, bored, and uncomfortable, and honestly, we couldn't wait to leave! We were considering leaving early – we were that cranky.
But by day 3, we'd relaxed and eased into the zen of having nothing to do in particular. We were enjoying the sound of the waves, long walks on the beach, and the daily excursions to swim and snorkel on nearby islands. And we ended up wishing we'd stayed for a little longer! If you need to fully unplug and relax, a 3-4 day adventure (overnight stay or sailing trip) is the perfect amount of time to really experience San Bas. If your time is limited and you choose a day trip, be aware that will include a lot of traveling in a short amount of time. But if that's all the time you've got, or you're not interested in roughing it island-style, you can still experience San Blas. Check out these guided day trips that offer island hopping, snorkeling, and lots of tropical sunshine!
ARE THERE MANY THINGS TO DO IN SAN BLAS?
There is a short list of things you can do in the San Blas islands as a visitor. Here it is: Swim, snorkel, relax, rest, buy molas, eat fresh seafood, watch the sunset, relax.
Now, that's not to say that there aren't some specific attractions to visit, like a beautiful natural pool, Dog Island, Pelican Island, etc. But as a visitor, you don't really get a choice of where you go or what to do: that's entirely up to your hosts and the Guna community.
If you're sailing through the islands, you'll be visiting islands each day, spending some time snorkeling or stand-up paddle boarding or swimming, and then continuing onwards. You may or may not know where you are at any given moment, but it doesn't matter: you're gonna have a blast.
If you're staying on the islands overnight, each day during your trip, you'll be taken on two outings: a morning excursion, and an afternoon adventure. It will involve a boat ride to an island, where you'll probably be able to swim or snorkel, and then you'll return home in time for lunch or dinner.
You won't necessarily know which island you're on or what you'll be doing that day in advance. Just go with the flow! Whatever you do will be fun and safe, and if you don't like it, it won't last for very long before you're headed back to your "home" island.
Since you don't have much of a choice of where you go or what you do within Guna Yala, there's no sense in making a list of "must-do" activities. Just relax and go with it! (This is also the excuse I'm giving for why my notes from our trip were … incredibly lacking. Normally I'm trying to write down the names of absolutely everything we see and do on a trip to fact-check later. This trip? I kinda just gave up!)
MORE TIPS FOR VISITING SAN BLAS 
Bring cash for everything: There are no ATMs in San Blas. There isn't much to spend your money on, but bring small bills for things like water and drinks. You may also want cash for incidentals, souvenirs, or the $22 Kuna Yala entrance fee.
The food is amazing, but if you want snacks, bring them: While your Guna hosts serve three delicious, fresh meals each day (like red snapper, lobster, and coconut rice), there aren't any snacks available. Many tours include a stop at the grocery store on the way to the port so you can stock up on snacks. But note that if you leave food in bags in your room and then leave a window open, birds will come eat all your food. We speak from experience.
The islands are very rustic: Don't expect luxuries like 24/7 electricity, A/C, or hot water – a flushing toilet is a luxury in San Blas (even more so if it's not shared). Set your expectations to a realistic level and you'll have a much more enjoyable time. One thing that wasn't ideal for us is that there wasn't really anywhere comfortable to sit on the islands. We wished that we'd brought our own hammock or beach chairs! Now THAT would be luxurious.
Bring bug repellent: Jeremy got dengue fever during our trip to Panama – it wasn't dangerous or serious, but it was annoying and he kinda felt like crap for a few days. Honestly, I don't think he was bit during our time in the San Blas Islands – more likely it happened while we were in Bocas del Toro or Boquete. But still, it sucked! To be safe, treat your clothing with Permethrin before your trip, and cover all of your exposed skin with bug repellant. We swear by this lightweight picaridin lotion that has a light, pleasant smell and doesn't leave a greasy residue. We've got loads more packing tips below!
Get all your travel vaccines before your trip: You'll want to be vaccinated for Hepatitis A, Typhoid, Yellow Fever and Hepatitis B (and, obviously, COVID). You don't necssarily need to take malaria medication, ut San Blas is near a location where there is malaria (the Darién Gap), so if that freaks you out, just talk to your doctor and take malaria pills during your trip, no big deal!
Do NOT touch the starfish: The beaches and clear waters of San Blas are dotted with bright orange starfish. They're beautiful and a joy to look at, but DON'T TOUCH! Touching them will hurt and kill them – yes, even if you're gentle and put them back aferwards. Admire them from afar, please!
WHAT TO PACK FOR SAN BLAS
Most of your time in San Blas will be spent in the ocean, swimming or snorkeling! You'll also be in bright Caribbean sunlight. So your most critical items will be for the beach, for the water, and for sun protection.
FOR THE BEACH
Here's what to pack in your luggage to bring with you to the beach:
On beach days, we pack up our day bag with all of our beach gear and a full bottle of cold water to stay hydrated (our insulated water bottle keeps water cold for an unbelievably long time). And of course, lots and lot of sunscreen – don't forget to re-apply!
For more beachy packing tips and curvy-girl specific suggestions (ahem: do you have chafe balm yet??) head over to our beach vacation packing guide!
FOR SWIMMING/SNORKELLING
There are a few essential pieces of gear you'll want to bring to keep yourself – and your underwater friends – safe and happy.
Here's what to pack for swimming and snorkeling:
SUN PROTECTION
Here are the essentials to bring with you on your trip to protect you from the sun:
In addition to everyday sun protection, you'll want to take extra care on days you'll be spending more time than usual out on the water, like on a snorkeling or kayaking tour or even just when you'll be swimming in the heat of the afternoon sun. I'm a huge fan of wearing swim clothes to protect your skin and cut down on the amount of sunscreen you'll need to use! I highly recommend bringing along a long-sleeved rash guard and a pair of swim leggings for sun protection during water sports.
Remember: the more your body is covered, the better you'll be protected from the sun, and the more environmentally friendly your beach vacation will be! Psst: For more eco-friendly and responsible travel tips, head over to our Ethical Travel Guide.
Travel Tip: In case you DO get sunburnt, a bottle of aloe vera will help. But an even better sunburn treatment? Apple cider vinegar! It smells terrible but it works miracles to take the sting out of a bad burn and speed up the healing process. Plus, it doesn't feel sticky and gross on your skin. I bring a little spray bottle full of ACV on every beach trip.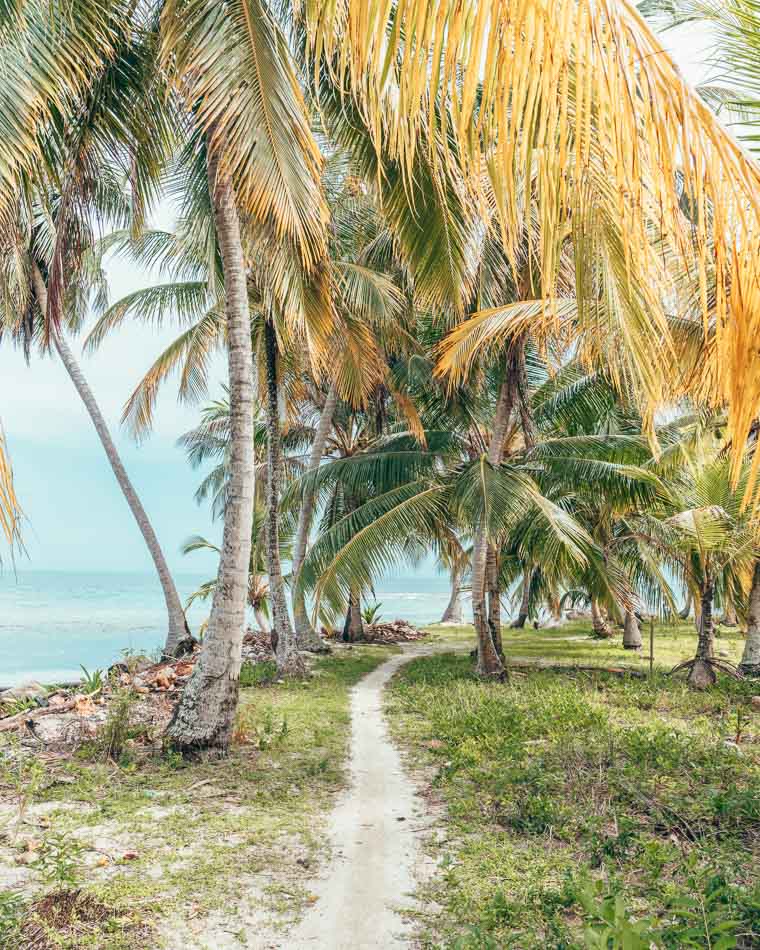 BUG REPELLANT
Nothing ruins a trip like a sleepless night spent frantically trying to ignore your itchy legs. Or worse, mosquito-bite-induced Dengue fever, which Jeremy caught in Panama once (yeah, it sucked).
But where there are beautiful places waiting to be explored, there are bugs! So we've learned to make our peace with them – through the use of extremely effective bug repellants. We absolutely swear by these 2 essential bug repellants, and we rarely get bitten during our trip!
Here's what you'll need to tell mosquitos to back the f*** up during your trip:
Permethrin Spray: Let me introduce you to our favorite thing ever, Permethrin Spray. It's a bug repellent which adheres only to fabrics, leaves no smell or residue on clothes, and doesn't harm human skin. Think of it like a magical, invisible armor on all of your clothes! We recommend stocking up on a few bottles before your trip and spending a couple of days spraying down all of your clothing, paying special attention to hems, cuffs, and socks (and extra-special attention to whatever you'll be sleeping in). Make sure you do it outside, keep pets away, and wear a mask, because nobody wants to inhale chemicals (which, incidnetally, is why I hate aerosol bug sprays). Permethrin spray lasts for up to 6 machine washes, but … well, we don't wash our clothes very often on vacation (ssh, don't judge). Now you'll only need to focus on covering your skin with bug repellant, which brings us to …
Insect Repellant Lotion: Most insect repellents are not worth the unpleasant oily feeling you get after applying them, the icky hacking cough you develop after spraying them, or that skin-burning feeling you get after applying 100000% chemicals to your skin. There is, however, one insect repellant that avoids these pitfalls, and it's this amazing lightweight Picaridin lotion. You rub it into your skin and it absorbs crazy fast with no oily residue. It lasts all day and the coverage is amazing. It doesn't smell disgusting, leaves no sticky or oily residue, and it's never made my skin burn. I love it, I swear by it, and yes, we definitely hoard it in 1-gallon jugs. This is one of our tried and tested travel essentials, and we typically get a LOT fewer bites than our travel companions! Pick up a couple of travel-sized 2oz bottles of lotion to take in your carry on luggage, or go all out on the quart or gallon-sized dispenser and fill up some empty bottles like us!
OTHER ESSENTIALS TO PACK
Here are a few other essentials to pack in your suitcase: